The best lottery software and prediction tools can assist lottery players, especially those who play frequently or in several games at once and have no clue how to apply it. Before making a choice, the most important parameters that must be checked include the features offered by each lottery software or tool and, of course, identifying the scams.
It takes only a few minutes to read the list with the best lottery software and prediction tools in 2023 to eliminate those that are either a fraud or simply useless. As an alternative, the top lottery software and tools can be used with the best lottery strategies for real money.
Quick Summary of the Best Lottery Software and Prediction Tools:
WinSlips Ultimate – Best for a reduced pool of possible numbers.
SamLotto – Ideal for players who prefer one-time payment and varied tools.
Lotto Pro – Top choice to generate wheeled numbers based on statistics.
Pick3Sniper – Number one choice for any Pick 3 game!
Lotto Prediction – Interesting suggestion for players who seek winning patterns.
BeatLottery – Lottery software to generate numbers with improved odds.
LottOdds – Ideal for players who want a membership program.
Smart Luck – Reputable for the many years in the market.
LotWin – Hot pick for 5-ball and 6-ball lottery games around the world.
Lotto Logic Pro – Great pick for lottery variety, from Pick 3 to Pick 10.
Magayo Lotto – Best option to try resources and tools for free!
The Lottery Picker – For players who only play Powerball and Mega Millions.
Lottery Numbers Pro – Regular lottery tool that reduces total combinations by 10 to 100 times.
Lucky Days – Ideal pick for players who want results based on their horoscope.
Expert Lotto 5 – Best choice to generate analytical predictions for free.
LottoMatic – A combination of quick pick, wheels, and statistics to generate numbers.
How Do the Best Lottery Software and Prediction Tools Work?
Lottery software and prediction tools can come as apps or computer software that assist players in choosing their possibly winning numbers. Their features vary a lot, but the goal remains the acquisition of the jackpot or at least some valuable prize in lotteries across the world.
They are always based on a simple or complex algorithm, usually kept hidden from its users. Therefore, analyzing the best lottery software and prediction tools involves their range of features, reputation, and how much credit each one of them deserves.
16 Best Lottery Software that Works
Prediction tools for the lottery games can assist players that neither want to choose numbers of their preference nor trust in a quick pick software. Each one of them uses a different approach to result in the predicted winning numbers, and some of them might be worth a test.
We know scrolling endlessly between different tools only to get lost in all the details is not the most convenient way to find the best lottery software and prediction tool. With your satisfaction as our best interest, we picked the top 5 lottery software tools and added the most crucial information that will make your research a lot easier. Take a look at our comparison table and select the best lottery software for you!
| Software Name | Supported Lotteries | Price |
| --- | --- | --- |
| WinSlips Ultimate | Over 300 lotteries worldwide, including Powerball and Mega Millions | $39.95 |
| Sam Lotto | Supports most major lotteries, including Powerball and EuroMillions | Starting from $159 |
| Lotto Pro | Supports over 100 lotteries, including Powerball and Mega Millions | $29.95 |
| Pick3Sniper | Supports Pick 3 and Pick 4 lotteries | $37.00 |
| Lotto Prediction | Supports most major lotteries, including Powerball and EuroMillions | $9.99 |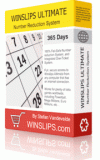 Website: winslips.com
Pricing: $39.95
It has been created to replace the famous lotto wheels that result in too many possible lines. Meant for low-budget players, its system is conveniently known only by its creator and promises to be an excellent reduction system to the majority of existing lotteries. Among the characteristics that defined WinSlips as one of the best lottery software and tools, the highlights of the program are:
20,000+ subscribers
The selections did not fail since 2011
Completely browser-based, no download
Powered by the One Ticket System and the Inverted Lottery System
Of course, WinSlips Ultimate does not guarantee a victory, the same as any other lottery tool or software. Therefore, it should be used for those who are looking for a cheap investment in lottery software and want to reduce the pool of possible numbers.
| Pros | Cons |
| --- | --- |
| Advanced algorithms for accurate predictions | Relatively expensive compared to other software |
| Comprehensive analysis of lottery patterns and trends | Limited compatibility with certain operating systems |
| Offers strategies to improve chances of winning |   |
| Regularly updated with the latest lottery data |   |
Website: samlotto.com
Price: Starting from $159
SamLotto is another valid option if you're looking for the best lottery software. The tool comes with a higher price tag than some other options but delivers a top bang for the buck. It's packed with many tools, requires a one-time subscription for lifetime access, and covers 200+ lotteries in a single package.
The tool is very beginner-friendly and loaded with instructions and manuals. Some available markets include Mega Millions, Powerball, Oz Lotto, and more. Also included in the mix is an analysis tool with 150+ charts for detailed insights on the draw. After the one-time charge, no monthly fees are ever required.
| Pros | Cons |
| --- | --- |
| Wide range of tools and features | Relatively expensive |
| Helpful guidance manuals | Only compatible with Windows |
| Multiple lottery support | Not beginner-friendly |
Website: windowslotto.com
Price: $29.95
Lotto Pro, a lottery prediction software, promises that its Smart Number Wizard will automatically generate the best possible lottery numbers based on pure statistics from previous drawings. Instead of manually inserting them, the Lotto Pro software downloads them all from the internet.
It uses a wheeling system, and players who decide to use it should be advised to take the "win guarantee" promise as mere propaganda. It works by trying to predict the results of popular lottery games, including:
Cash4Life
Keno
Lotto America
Lucky for Life
Mega Millions
Pick 3, Pick 4, Pick 5, Pick 6, and Pick 7
Powerball
Instead of a subscription, it has a one-time fee with unlimited updates and support. To download and install the Lotto Pro software, it is necessary to have Windows XP or better.
| Pros | Cons |
| --- | --- |
| Acceptable pricing | Only compatible with Windows |
| Utilizes statistical analysis for valuable insights | Weak customer support |
| Supports multiple lotteries from different countries |   |
Download LottoPro!
Website: pick3sniper.com
Price: $37.00
Pick3Sniper reduces the pool of possibilities in all Pick-3 games of the United States, Canada, and Australia for both singles and doubles. The annual payment has an average value compared to other software and can be used right after the purchase.
| Pros | Cons |
| --- | --- |
| Advanced prediction algorithms for Pick 3 lottery | Must renew the subscription annually |
| No software installation required | No free trial |
| User-friendly interface, easy to navigate |   |
Download Pick3Sniper!
Website: lottoprediction.com
Price: $9.99
The suggestive name of Lottery Prediction gathers all possible data to predict the numbers. Among the sources of analysis, it searches for winning patterns and possible algorithms to deduct what numbers will be drawn next.
One different feature that might attract lottery players to use Lottery Prediction is its prizes for winning guesses. While it is possible to use their free analysis data at any given moment, a small subscription fee can provide their so-called "advanced predictions" for a whole month.
Website: beatlottery.co.uk
Price: $9.95/month or $95/year
Built to predict winning lottery numbers, Beat Lottery promises that its number generator can increase the odds of winning any jackpot prize. It states that its machine-learning tech has the power of increasing the odds by 98% – make sure to understand that is not the same as 98% of chances to win. The lottery prediction tool Beat Lottery is compatible with:
Canada Lotto Max
Lotto America
Lucky for Life
Mega Millions
PowerBall
South Africa PowerBall
It uses known methods automatically so that the players can spare their time. Confident of its results, the system challenges its users to post predictions and compare with theirs. Moreover, it is possible to be a member for free, with access to statistics only. The subscription is considerably higher than in the other lottery prediction tools.
Website: lottodds.com
Price: $9.99
LottOdds is advertised as an educational lottery tool that should improve the odds of winning the lottery, like many other lotto tools.
Players can acquire it through a membership program and, besides receiving possible combinations, activate alerts for rollovers and wins.
Website: smartluck.com
Price: $49.50 – $79.95
Smart Luck has been out there for almost 40 years and claims that 109 of their winners have collected a total sum of $102,000 by now. Gail Howard, an author and an expert in lottery games, is responsible for the formula it uses. Its latest product, called Advantage Gold, has a one-time fee that is considerably than most lottery software detailed in this listing article.
According to Smart Luck, it uses Gail Howard's original method to choose the numbers with the greatest odds in all United States, International, Pick-10, and Keno games. It can be loaded via a CD or flash drive. Since there is no wheeling software included, players can choose one out of five different wheeling software that assists in getting the best possible combinations. Some of them come with a demo version for trial.
LotWin
Website: lotwin.com
Price: £99.95 – £339.95
Available to be downloaded as computer software or Android app, LotWin released its last version in the year 2018. Apparently, that should not impair its capacity to help players figure out the next winning numbers for 5-ball and 6-ball lottery games.
After choosing the lottery games of your preference, LotWin identifies the possible results from a database of the latest draws. In short, it provides a certain probability for each number based on its appearance. For example, a hot number is less likely to continue appearing after a sequence of wins. Players who are interested in it pay an average subscription to continue using its services.
Lotto Logic Pro
Website: timersoft.com
Price: $19 – $39
Lotto Logic Pro is a lottery analysis software that works even with lottery games that have bonus numbers, such as Powerball and Mega Millions. It is also compatible with games from Pick-3 to Pick-10, plus Keno games. According to the official documentation, Lotto Logic Pro is capable of handling 95% of all existing lotteries today and offers 74.22% of increased chances.
Different from lottery prediction tools that rely on statistical sets, the feature Range Finder allows Lotto Logic to find optimal ranges in the past draws that would, according to them, work for the next drawings.
Players who decide to use it can purchase Lotto Logic with a one-time fee and even decide to take a bundle discount with two other programs by TimerSoft: Lottery Looper and Lotto Effect. They are both similar to Lotto Logic Pro, with a few features that might be dispensable, such as showing percentages that are not duly explained.
Website: magayo.com
Price: Free Version – $38.99 for Magayo Lotto Pro
Magayo Lotto and Pick software are available for free download, including a mobile app. If the player wants, it is possible to purchase the Magayo Lotto Pro Edition through a one-time payment. Magayo Lotto automatically downloads the results of lotteries, which expand in the Pro version, and it recommends the most probable numbers.
From the reduced pool of possibilities, players have to pick their numbers or use a Quick Pick generator until they get only numbers within that given pool. Considering its free version includes some popular lotteries, it is worth a try.
The online instruments below deserve an honorable mention, even though they are not included among the best lottery software or prediction tools. Some are well-rated software, while others simply have a good offer.
The Lottery Picker
Website: powerfall.com
Price: $39.99 – $139.99
Lottery Picker, is dedicated to two of the most popular lottery games in the United States, Mega Millions and Powerball. It downloads all drawing data and extracts the most probable numbers for your next draws.
The one-time payment for using it is more than 10x higher than other lottery software listed here. Therefore, considering that it basically works with statistics as the best lottery software and prediction tools on this list, there appears to be no reason to pay hundreds of dollars for it.
Lottery Numbers Pro

Website: lotterynumberspro.com
Price: $0 – $25
Lottery Numbers Pro supports the majority of the United States and international lotteries, and they can also provide probable numbers in customized combinations according to the number of balls. Instead of a single tool, they sell combinations generated by the lottery software they keep for themselves.
Although they reduce the possibilities 10 to 100 times, that is still plenty of combinations to play. Therefore, Lottery Numbers Pro deserves an honorable mention for its contribution to the market of lottery software, but it does not seem to be the best alternative out there.
Lucky Days
Website: luckydays.tv
Price: $79
Lucky Days offers a trial version of its lottery software, which does not provide combinations but indicates the luckiest days for people based on astrology. It claims to be ranked #1 best lottery software of its genre in 2023 and continues to offer updates to its members since 2001.
Throughout the year, members receive an indication of when they should gamble based on a score of 1 to 5, being 5 the luckiest possible day. Therefore, they would simply play using their numbers, hoping that astrology would be on their side.
Expert Lotto 5
Website: expertlotto.com
Price: Free
Expert Lotto 5 is a computer lottery software compatible with Windows, MacOS, and Linux that is available for free. It includes many leading lottery games in the world, and its features include:
Latest draws and winnings
Drawings analysis
Management of system bets
Hot/Cold numbers prediction
Personal predictions
Considering its features, it works much more as a lottery management tool than as a prediction software. Therefore, it could assist many players, especially considering it is available for free.
LottoMatic
Website: LottoMatic.org
Price: $9.99/ $14.99/ $19.99
LottoMatic offers varied membership levels, according to the types of tools available, including a free one. The higher the membership level, the more varied the features and the higher the price. Basically, they increase the maximum lotto numbers and analyses. Its subscription varies from average to pricey, and users have full access to a forum of real members. Its features include:
Lottery Wheel/Generator
Quick Pick system
Recommended Numbers based on statistics
Analyses of lotto numbers
Lottery Software and Prediction Tools You Should Avoid
Some software and prediction tools found on the internet are not even reasonable, and occasionally they just sound like a scam or a total loss of time. We already exposed and answered if Lotto Dominator is a scam, and now we debunk lottery software that is not worth your time.
❌ LotoXP
LotoXP has a website that seems to be frozen in the 1990s, with the results of the latest draw and supposing offers the user a chance to increase the odds in any lottery game. Besides the horrid presentation, the problem is that it does not provide any information on how the software works.
❌ Smart Play Lotto Wheels
Like any wheeling system, Smart Play Lotto Wheels distribute the lottery numbers to reduce them to a reduced pool of combinations. It basically claims to be ideal for small and medium-sized prizes when compared to simply choosing numbers at random. However, it has no trial, and the website seems like something a 12-year-old would create in a boring afternoon.
❌Lotto Sorcerer
Imagine being capable of guessing the results of more than 600 lotteries from almost 70 countries. Lotto Sorcerer, launched in 1989 – according to them – seems to be frozen in time. Quite pricey, its unknown method is not appealing enough to justify its purchase. Even so, it is possible to give it a quick trial. It should not be better than any Quick Pick machine.
Can You Trust Best Lottery Prediction Software?
The shortest and more honest answer is: it depends. After all, except for a few scams, they are all legit – and careful, to say the least – in informing that they cannot guarantee winnings, and nobody can. Despite all strategies on how to choose lottery numbers, it all comes down to having luck.
Some of them have tricky propaganda on their websites and apps, informing players that they increase the odds by 50-95%, which still maintains them low.
Players are advised to have caution and use the lottery software and prediction tools they can trust as an assistance to their games, especially those who play a lot. Reducing the pool of possibilities does not guarantee a jackpot, but it can surely help in a game where there are millions of alternatives.
Tips and Conclusion
The best lottery software and prediction tools are easy to use, have enough features to assist all types of lottery players, and are, of course, affordable. Our selection involves everything that users might need, from lottery software that analyzes possible patterns to lottery prediction tools with a reduced pool of winning combinations.
They are not necessary to win a jackpot, and there is not a single software out there that can guarantee a prize. Even so, except for the ones that are not recommended, they have proven their value to thousands of members and continue to update their systems. In short, the best lottery software and prediction tools can be assets if used correctly to save time and effort in choosing the winning lottery numbers on the best and trusted lottery sites.
As an extra tip, keep in your mind that you cannot interfere with the results. Simply keep playing and use our guides to help you avoid sharing prizes with others and to choose the best lottery games to play.
Keep in mind that
selecting the best lottery site for yourself
 according to our expert review is the most important step to win real money
. Always be aware of many scam sites out there! And make sure you choose one of the top software we mentioned above.